Welcome to Bermuda Gymnastics!

*The calendar is subject to change as we progress through the season.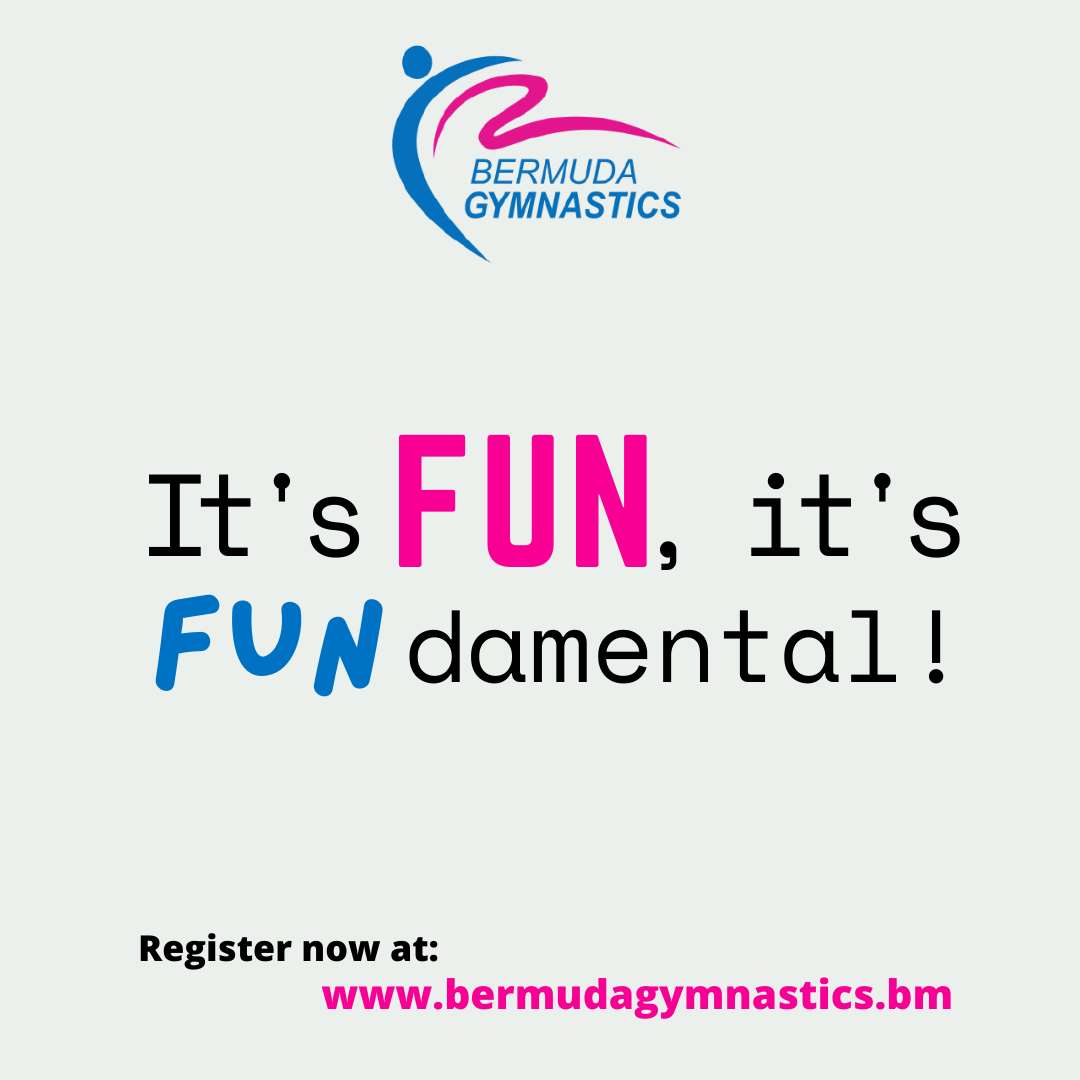 Our organization offers programs from crawling infants to elite training. Athletes can progress through our recreational program for leisure or may be selected to competitive programs as they mature. Our recreational and competitive athlete programs are geared towards enhancing child development. As Gymnastics is a fundamental sport, its values go beyond our basic practice of improving muscular strength, agility, coordination and flexibility. Gymnastics also teaches the athlete the importance of discipline, realistic goal setting, problem solving, teamwork, communication skills and work ethic. The premise of our programs is to promote active living through Fundamental gymnastics training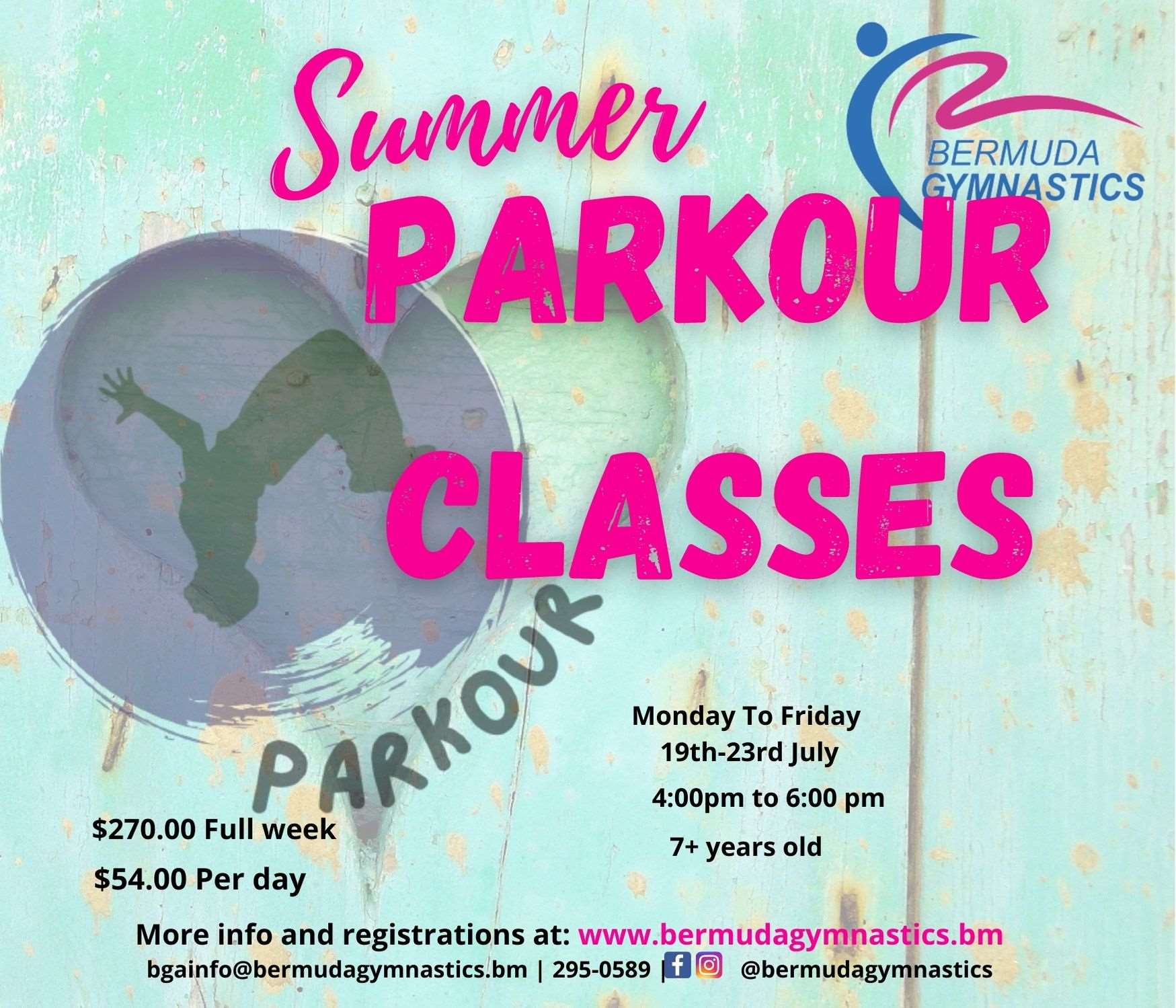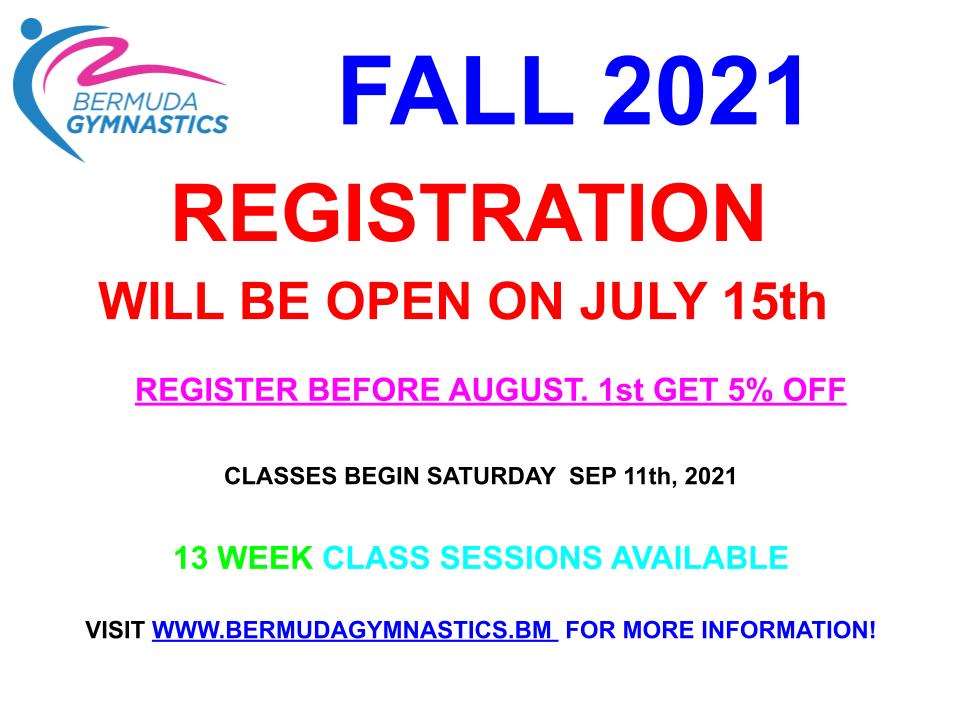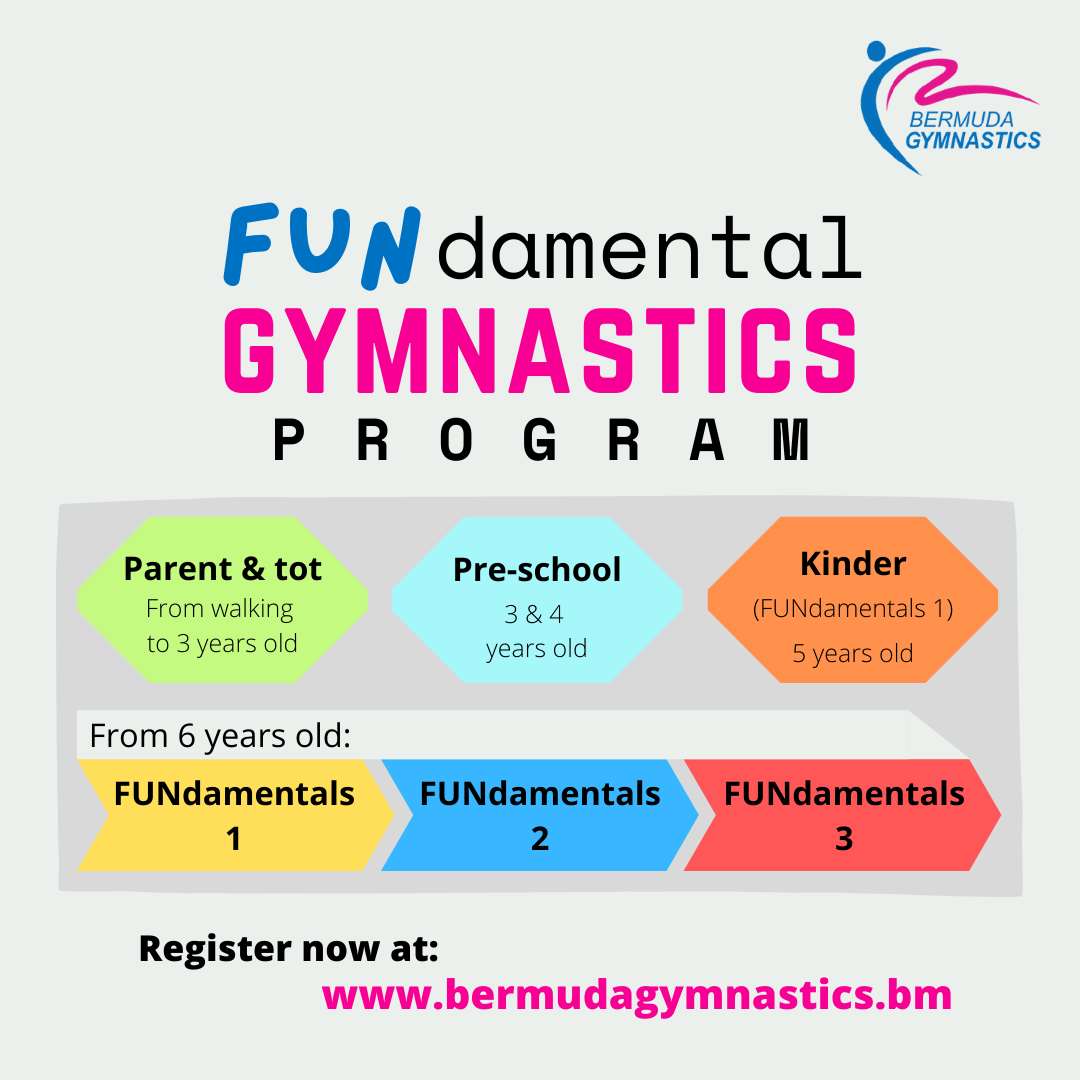 FALL 2021 TERM OPEN & CLOSING DATES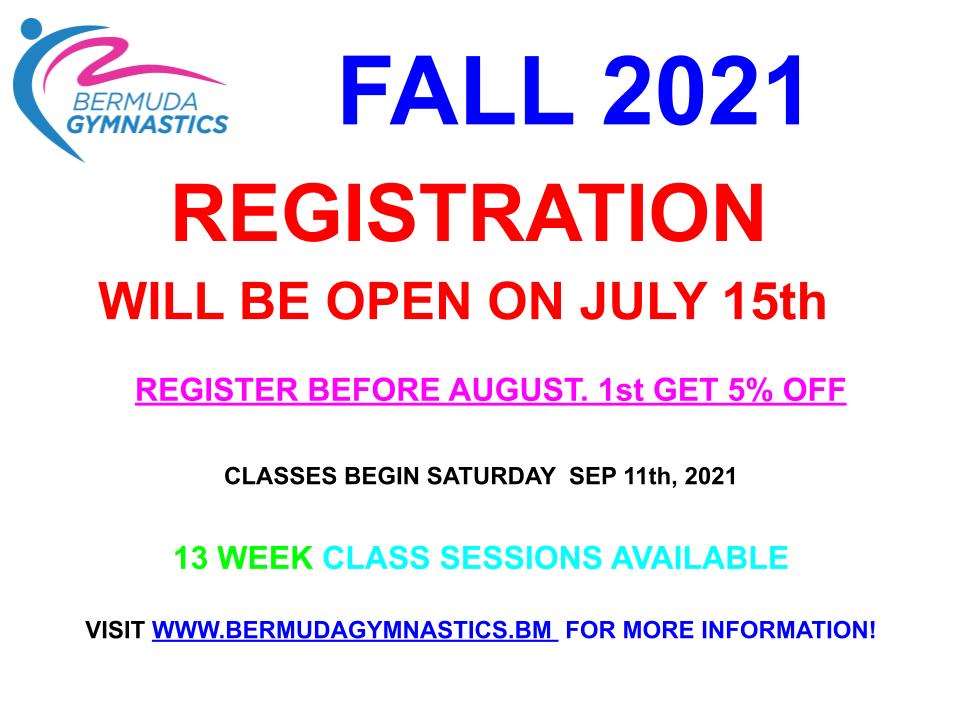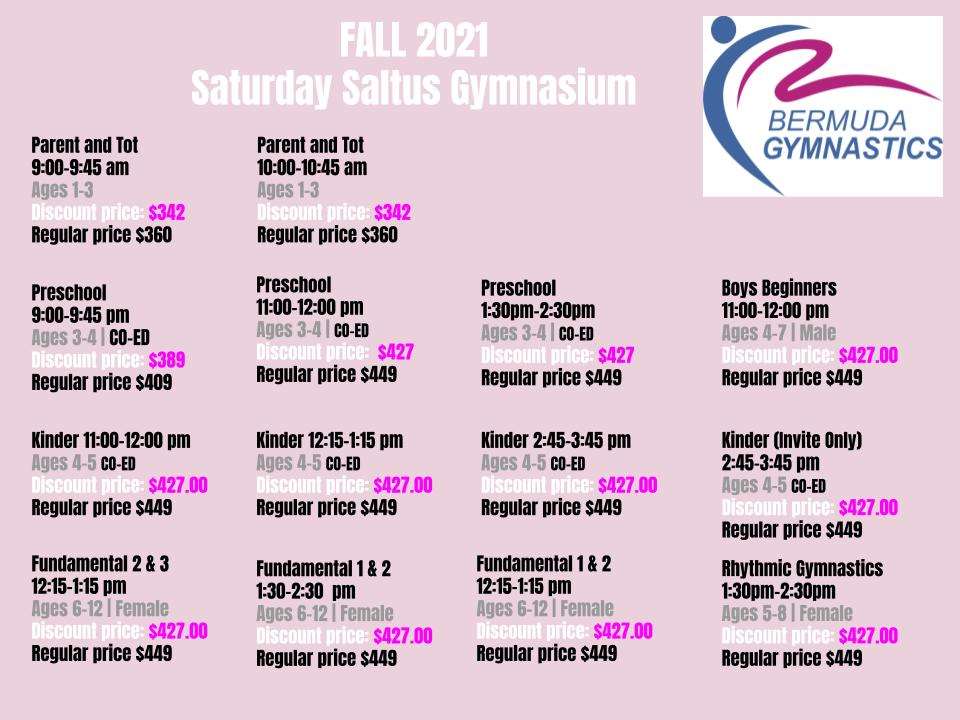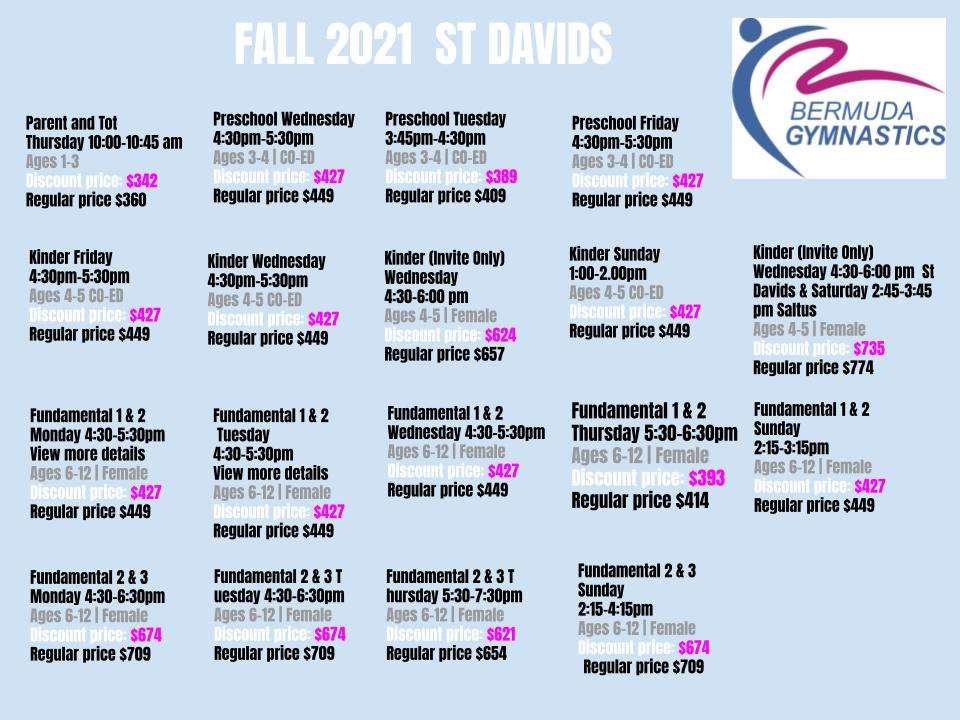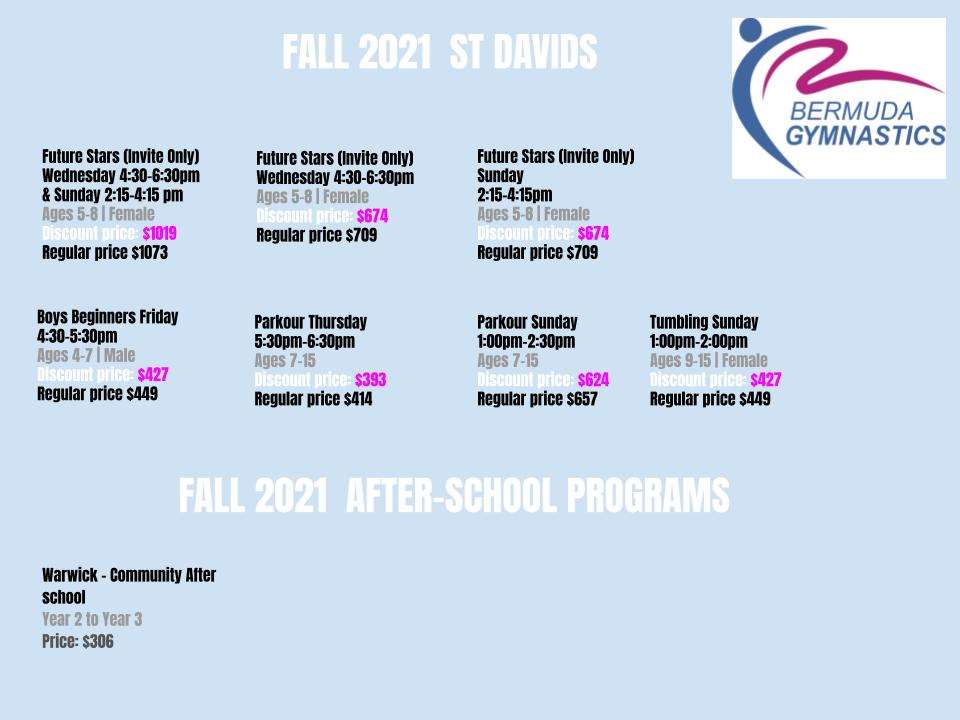 BERMUDA GYMNASTICS COVID-19 HEALTH & SAFETY POLICY
This Policy has been created in accordance with the "Guidance for Summer Day Camp and After School Programs" produced by the Ministry of Health.
Gymnasts and staff may only enter the program if they are healthy, have not been exposed to an individual demonstrating COVID-19 symptoms, and are not under public health ordinance to be quarantined or self–isolated.
Crisis Response Planning
Brian Le Roux ( Head Coach & Team leader),Pilar Sanchez (Recreational Coordinator)Dermot McGrath (Senior Coach)
Eligibility/Screenings
Staff will be tested for COVID-19 prior to reopening. Any staff testing positive or exhibiting signs and symptoms of COVID-19 will be instructed to remain at home and seek immediate medical attention.
Any staff or student who has been in contact with an individual testing positive for COVID-19 or showing COVID-19 symptoms in the last two weeks will not be allowed to join a program for a minimum of two weeks, or until they test negative.
Staff/gymnasts will have their temperature checked every day using a non-contact thermometerbefore being allowed to enter the gym. Anyone with a fever or showing signs or symptoms ofCOVID-19 will be sent home and directed to seek medical attention immediately.
Prent/Guardian Pick Up and Drop Off
Drop off/pick up procedures will be at BGA parking lot. Parents/Guardians are encouraged toremain in their vehicles unless they need to speak with a staff member. In this case, parents/guardians must wear masks and maintain an acceptable distance of 2 metersBefore and after classes, the coach will line up gymnasts at the exit, using the floor markersfor space distancing. Hand sanitizers will be distributed upon their departure and will exit thebuilding one at a time.
If it is raining, parents should wait in their car until the coach picks up / drops off the gymnasts individually
BGA Transportation Pick Up and Drop Off
Gymnasts will be screened prior to being transported to St David's and check in/forms shouldbe completed.Gymnasts are required to wear masks during the transportation.Hand sanitizer will be distributedat the entrance and exit of the vehicle.
Check in
All Waivers must be submitted electronically.There will be different exit and entry routes to the gym: Entry will be through the gym's front door,Exit will be through the gym's side door. Gymnasts must line up outside the facility and maintainsocial distance when waiting for their screening before entering the gym.Check-in/sign out: Parents must bring their own pens and disinfect their hands before signing the forms. All non essential visitors, including parents, will not have access to the facility.
Since the facility has 2 separate floor plans there will be 2 groups per room and one more group outdoors with no more than 8 gymnasts per coach. While attending class, gymnasts are requiredto stay at a minimum 6-foot distance from one another at all times.
* Signs have been posted in visible areas to communicate gym entry conditions for staff, parents, and gymnasts.
What to bring to each class
Staff and gymnasts with long hair should wear it netted or tied back Gymnasts should arrive dressed for class and come to the gym wearing sneakers for outdoor activities.
Gymnasts are required to bring to each class: Personal string bag labeled with gymnastsname to use for storing shoes while in the gym, personal labeled water bottle, A T shirts, Yoga mat/towel (must be sanitizing it between classes), own disinfectant and a bottle of water tospray the shared equipment.
NO extra items will be allowed into the gym (bags, jackets, etc. in the gym). If coaches require additional personal equipment (weights, yoga blocks, bands, etc.) they will notify parentsin advance.
Campers must bring lunch and snacks mid-morning / afternoon.
All unnamed clothes & items will be discarded each night. Named clothing and water bottleswill be placed in a plastic bag labeled with the child's name to take home the next day
Sick Policy
Parent/guardian contact details for each student will be kept up-to-date and accessible to all staff members.Staff who become ill must notify their supervisor by phone no later than 7:30am to ensurethat a relief staff member can be called, if necessary. Qualified relief staff will be availableto maintain safe supervision.Parents/guardians with an ill child should notify a staff member via phone no later than 8am.Staff or students who become ill with COVID-19 signs or symptoms during the program willbe isolated from the group and their emergency contact notified. Please see the OutbreakResponse Plan below for further details. Staff will not administer fever reducing medications.
Supplies and Equipment
An inventory of protective equipment and cleaning products will be maintained to ensurethat an adequate supply is always available.
Staff and gymnasts will be required to bring their own face coverings/masks to the programeach day (children required to wear masks as they enter/leave the facility and go to the bathroom.
We believe wearing a mask while practicing gymnastics is hazardous, so we will not requiregymnasts to wear a mask for class. However, if parents/guardians prefer that their child wearone, they should speak to the coach before class, but they should ensure that their child hasthe ability to handle the masks properly to reduce the risk of suffocation.Spare masks will be available as a back-up
Soap and hand sanitizer with at least 60% ethanol will be readily available. Hand sanitizer dispensers have been installed at the entrance and in different places in the gym, which arethe most frequently used areas.EPA approved cleaning products will be frequently used.
Physical Distancing
Social distancing of 2 meters will be observed.While inside, gymnasts shall respect all signage and the one way route around the gym.Gymnasts will stay with the same group and coach the entire class.Bathroom facilities and the kitchen will be limited to one person at a time to adhere to socialdistancing requirements in these confined spacesField Trips will be provided while maintaining physical distance guidelines.
Hygiene
All staff and gymnasts will be prompted to use hand sanitizer prior to class, duringclass between apparatus, and at the end of class.All staff and gymnasts should wash hands with soap and water upon entering thefacility (including returning from outdoor play), before and after meals, and afterbathroom breaks for at least 20-seconds.Gymnasts will be reminded not to touch their face, nose or mouth and to cover theircough or sneeze. Signage will be prominently posted to reinforce these behavioursReusable hand towels will not be allowed in the gym.Personal belongings, food and water bottles will not be shared
Cleaning
Coaches are required to sanitize all contact surfaces before and after each class.Cleaning stations will be mounted throughout the gym to ensure ample supplies are available.
Grips and wristbands are personal items and must be cleaned and disinfected immediately after use.
General cleaning of frequently touched surfaces (faucets, toilets, chairs, etc.) willbe done at more frequent intervals: before opening, each time equipment is sharedand at the closing of the gym.
Outbreak Response Plan
Outbreak Response Team are:
Brian Le Roux ( Head Coach & Team leader)Pilar Sanchez (Recreational Coordinator/Camp director)Dermot McGrath (Senior Coach)
Gymnasts and staff who become ill with signs or symptoms of COVID-19 while on the premiseswill be isolated from the group and their emergency contact will be notified to be sent home assoon as possible and directed to the https://www.gov.bm/coronavirus website for more information about COVID-19.
A member of the Outbreak Response Team will supervise Gymnast/Staff who exhibit signs or symptoms of COVID-19.
Response teams are required to wear gloves and masks when monitoring these situations.The Epidemiology and Surveillance Unit will be immediately contacted: Phone: (441) 278-6503Email: epidemiology@gov.bm
The Outbreak Report Form will be complete and submitted to:The Epidemiology and Surveillance Unit. A copy will be kept in the Student File Folder.
The Outbreak Response Team will follow the guidance from ESU officials to determine when it is safe to reopen.
Home Page